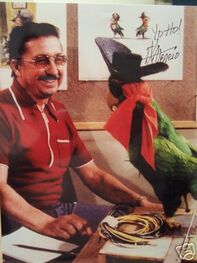 Francis Xavier Atencio, (1919-2017) known to his friends as simply "X", is a former storyboard artist, writer, and Imagineer. He wrote the lyrics for "Grim Grinning Ghosts" and the script for The Haunted Mansion. He is also the voice of the man in the coffin, and the emergency spiel.
Career
Before his career as an Imagineer, X was a storyboard artist at the Walt Disney Studios. At first X did not think of himself as a writer, that is until Walt said he was a writer. Walt assigned X to write the script for Pirates Of The Caribbean. This was not only his first attempt at script writing, but also songwriting too. X wrote the song "Yo Ho (A Pirates Life For Me)", the theme for the attraction.
By the time work on the Haunted Mansion was wrapping up, it was once again up to X to write the script. Like his script for "Pirates", the script for the Haunted Mansion was written to create a cohesive narrative out of what were basically very loosely related vignettes. Also like "Pirates", X wrote a song to lighten what was a very dark mood, "Grim Grinning Ghosts."
Voice actor
Although it is not his most notable occupation, X. Atencio provided voice talent for some characters in the Haunted Mansion. X. Atencio most notably voiced the Coffin Occupant's plea ("Lemme out of here ! Lemme out ! Lemme out of here !"), and the incidental narration provided by the Ghost Host whenever a technical breakdown forces the ride to be stopped for a moment ("Spooks have interupted out tour. Please remain kindly seated in your… doombuggy.").
Songs
Yo Ho (A Pirates Life For Me)
It's Fun To Be Free
If You Had Wings
The Bear Band Seranade
Here's To The Future And You
Tributes
The Francis Xavier tombstone references X.
In the Seance chamber, there is a floating horn with a trumpet-banner that reads, "X = ?" as a tribute to Atencio but also a gag on X being used in math as a variable.
Community content is available under
CC-BY-SA
unless otherwise noted.