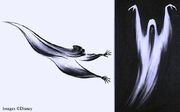 The wraiths are several spirits which haunt The Haunted Mansion.
Description
The Wraiths are spectral white phantoms with shrouded heads, outstretched arms and tattered robes which float behind them.
Appearances
The Haunted Mansion
The Wraiths appear in the Grand Hall segment of the ride where they fly overhead through the windows.
The Haunted Mansion (2003 Film)
The Wraiths briefly appear in the climax of the critically panned 2003 film adaption of the Haunted Mansion. They fly through the windows after Ramsley says the word "Hell".
Trivia
The Wraiths heavily resemble spirits from the Night on Bald Mountain segment of Fantasia (1940). Fantasia is one of the films often cited by imagineers to have inspired the film.
Community content is available under
CC-BY-SA
unless otherwise noted.