Jurassic World: Dominion Dominates Fandom Wikis - The Loop
Play Sound

Master William Gracey is a character in the comics, based on the Aging Man and the Ghost Host from the attraction, as well as the Captain Gore character from Ken Anderson's early concepts. His name was taken from the Master Gracey tombstone (honoring Imagineer Yale Gracey).
Biography
William Gracey was a sailor in the Caribbean who served aboard a merchant-ship called the Pomona under a cruel captain named Randall Pace. On a voyage to Barbados, William lead a mutiny against Pace due to his poor working conditions and killed the captain via decapitation, stuffing his head in a hatbox. William went on to become a pirate-captain under the moniker of Captain Blood.
Years later, William Gracey became the owner of Gracey Manor in New Orleans, Louisiana. He fell in love with a beautiful young woman named Emily de Claire, though his clairvoyant Madame Leota objected to this union due to her own affections for him. Due to this, Leota summoned the ghost of Randall Pace to lure Emily into the attic of the manor and kill her on her wedding night. In his melancholy three years after Emily died, William hanged himself in the cupola of the mansion.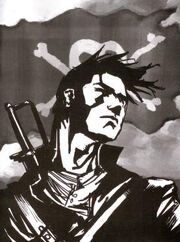 In death, Gracey came to learn that he was a ghost bound to the mansion who could only be freed if 1000 ghosts came to inhabit the Haunted Mansion. Due to this he began inviting spirits from around the world while also luring in mortals to be killed in the manor to fill up his quota.
Trivia
William's alias of Captain Blood is the same moniker as the fictional-pirate Dr. Peter Blood from the 1922 novel Captain Blood, popularized by its 1935 swashbuckler film-adaptation.
Continuity error: In Doom of the Diva, Baronessa Elda receives a letter from E. Gracey.

In Three of a Kind, a character clearly drawn to be William refers to himself by the name of Bartholomew Gore rather then the Captain Blood pirate alias used elsewhere.
Gallery