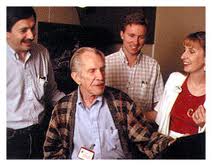 Vincent Price (May 27, 1911 – October 25, 1993) was an American actor best known for playing the lead in horror films over several decades. He provided the original English-speaking voice of the Phantom in Phantom Manor at Disneyland Paris. His sinister laughter is still used in the attraction.
As of 2018, Vincent Price's english narration was placed back into the attraction.
The voice of the Ghost Host (Paul Frees) in the Haunted Mansion attraction has often been misattributed to Vincent Price.
The script for the Story and Song from the Haunted Mansion album called for a deep "Vincent Price" type voice for the narrator. Thurl Ravenscroft ended up providing the narration.
Community content is available under
CC-BY-SA
unless otherwise noted.