The One Hiding Under Your Bed is a character from Tim Burton's The Nightmare Before Christmas (1993) who appears in Haunted Mansion Holiday.
Background
The monster's appearance is unknown (if it even exists) but it has glowing red eyes and sharp teeth which according to it were, "Ground sharp".
The character is made to resemble children's fear of a monster hiding underneath of the bed at night-time. It was an inhabitant of Halloween Town.
The Nightmare Before Christmas
The monster briefly appears during the opening sequence, "This is Halloween" where it is seen singing a verse underneath of a bed.
Appearances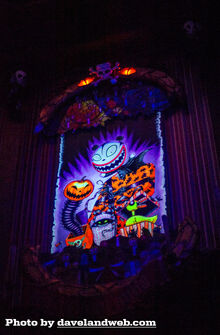 Haunted Mansion Holiday
In the Stretching Room, one of the portraits shows a creature resembling the one under the bed peering out from a gift-box while surrounding by nightmarish toys.
The monster appears in the queue of this seasonal overlay where it has long snake-like tentacles with candy-cane like patterns. It is poking out of a smashed hole in the wall where it holds a sign saying, "Free Sleigh Rides" which points guests towards the Loading Zone.
In the Scary Christmas display, tentacles resembling those given to this monster can be seen coming out of the small witch's cauldron.
In Madame Leota's chamber, the 13 Rings of Power card from the 13 days of Christmas poem has 13 tentacles emerging from a sack similar to those seen on the One under the Bed in the attraction.