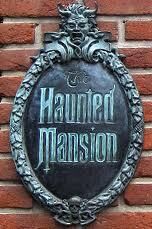 The Haunted Mansion is a franchise owned by the Walt Disney Company.  The franchise originated with the eponymous dark ride that opened in Disneyland's New Orleans Square in 1969, one of the last Disney theme park attractions overseen by Walt Disney himself.
Items contained in the franchise
Rides
Ride Overlays
Comics
Books
Cinematography
Unproduced
Video Games
Other
The Ghost Post, an interactive event in 2016 with its own storyline, apparently considered canon to the ride.
The Ghost Gallery, a collection of unofficial backstories for the Mansion's characters, written by Walt Disney World Cast Members. Completely non-canon, but certain elements influenced the 2003 film and the SLG comics, among other things.