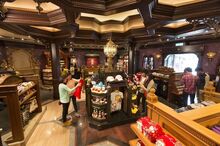 The Archive Shop is the gift-shop of Mystic Manor, being located in Mystic Point within Hong Kong Disneyland.
Background
The Archive Shop is a location in Mystic Point which supposedly sells items from Lord Henry Mystic's collection of antiquities from across the globe. It is a victorian building with ornate detailing and designs within the interior.
Description
The Archive Shop is a shop dedicated to selling merchandise themed around the attraction of Mystic Manor. It is filled with victorian stylings, most notably an ornate stone-carved fireplace can be found showing a portrait of Lord Henry Mystic and his pet monkey Albert. Said fireplace is decorated with carvings of monkeys. A penny-crusher machine can be found here, themed to Mystic Point.