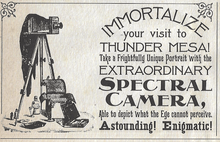 The Spectral Camera is an item found in the Phantom Manor mythos. It is supposedly a camera capable of photographing spirits.
Description
The Spectral Camera is a Daguerreotype which can photograph otherworldly spirits. It was used for the Spirit Photography service which was used outside Phantom Manor.
History
The origins of the spectral camera are unknown.
The camera was in the ownership of one James Collins of the Mysterious Chronicle newspaper, during at-least 1885. During the time when Ravenswood Manor was shut down for investigation, the Chronicle ran an article on if spirits were escaping the mansion at-which point Collins went to the manor to investigate.
After Collins' disappearance, the camera seemed to become operated by dissembodied spirits themselves.
Appearances
The camera used to appear outside of Phantom Manor in Frontierland for when the attraction was shut down for renovations. Guests could get their photograph taken by the camera and the photos would show them on the front-page of the Mysterious Chronicle, being terrorized on the grounds of Ravenswood Manor by the Phantom.
Other Appearances
While not referred to as-such and pre-dating Collins' camera (in terms of real-world appearances), there was a similar Daguerreotype that appeared in the Memento Mori gift-shop of the Magic Kingdom in Walt Disney World.
The camera was in the shop once(?) owned by the late Madame Leota and the employees of the shop would use it to photograph the undead spirits of still-living guests.