Sparky is a pet buried in Disneyland's Haunted Mansion; namely during the Haunted Mansion Holiday seasonal overlay.
Description
Origins
Sparky is a character originating from film director Tim Burton's 1984 live-action short Frankenweenie as well as it's 2012 stop-motion animated feature film adaption, both of which were produced by the Walt Disney Company. In both the short and the film, Sparky was the pet dog of one Victor Frankenstein during the late-1950s from when Victor was still a young boy living in the American town of New Holland. Sparky was Victor's closest (and only) friend but died tragically while running out into the road and being hit by a car. Following Sparky's death, Victor dug up Sparky's corpse, surgically patched the dog back together and used mad science to resurrect his lost best friend. In both versions of the story (albeit by drastically different circumstances) Sparky's existence causes an angry mob of villagers to chase Sparky into a windmill and burn it to the ground, killing Sparky again.
After this, the villagers come to terms with their xenophobia and after seeing how devastated Victor is, they use their car batteries to give Victor the electricity required to resurrect his best friend once more.
Appearances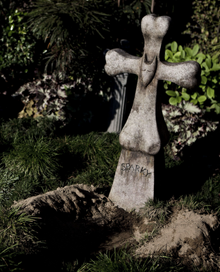 Sparky's tombstone is found in the Haunted Mansion during the seasonal Haunted Mansion Holiday overlay.  His tombstone is located in the Pet Cemetery with the dirt being fresh and dug up, implying that the tomb is empty (likely thanks to Victor).
The reasoning behind Sparky's inclusion is likely because of his being a Tim Burton creation, with Tim Burton having also created The Nightmare Before Christmas. The Nightmare Before Christmas and Frankenweenie are also both Disney stop-motion animated films made by Burton.
Trivia