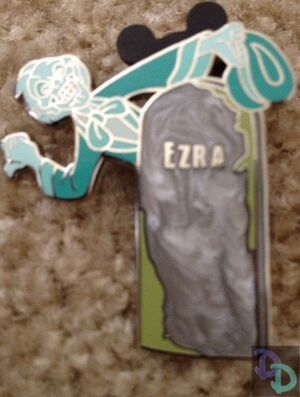 Ezra is a minor character who may actually be the mortal name of the Skeleton Hitchhiking Ghost.
Origin
The name Ezra was unofficially created by Cast Members as a name for the Skeleton Hitchhiking Ghost, along with the names of Gus and Phineas for the Prisoner and the Traveler. 
Official uses of the name
Slave Labor Graphics comic
Ezra and the rest of the hitchhikers are recurring characters in the comic.
His backstory is given in the 7th issue in a story entitled "Laugh? I Thought I'd Die!". Here, he is given the name Ezra Gasser. In life, Ezra was a mischievous prankster who started Gasser Novelties, a successful business selling practical joke novelties that ran from 1907 to 1924. With sales in a decline, Ezra traveled to seek out new product ideas and eventually came across Chinese finger traps in a mysterious little shop. As he found himself unable to free himself, the shopkeeper disappeared and Ezra laughed himself to death. His spirit eventually found his way to the Mansion where his practical jokes earned the scorn of the other residents, leading him to start taking up hitchhiking.
Tombstone
On the hillside near the entrance to the Mansion in Liberty Square is an epitaph-less tombstone with the name Ezra. This tombstone debuted in 2011 as part of the interactive queue installation for Walt Disney World's Haunted Mansion attraction. It is likely a nod of the Imagineers to the fan-generated nicknamed, and may be seen as a "canonization" of it.
Pin
Depicted on this page is a merchandise item released along with the tombstone, featuring the Skeleton hitchhiking while behind the Ezra tombstone. This is likely one more confirmation of the connection between the Skeleton and that name.
Host A Ghost
In Disney's line of Host a Ghost Spirit Jars, he is given the name Ezra Beane.
Ghost Post
In the limited interactive mystery game, Ghost Post, he is heavily implied to be the deep voiced hitchhiker named Ezra
Disney Crossy Roads
The Skeleton Hitchhikign Ghost is a minor character in the mobile-phone-only Disney video game Disney Crossy Roads. There, he is referred to as Ezra Beane.
Trivia
Another Haunted Mansion haunt named Ezra was featured in the 2003 live-action feature. Although the name was inspired by the Skeleton's popular nickname, he is quite a separate character, being plump and alive-looking, whereas the Skeleton also appears in the movie, depicted very close to his park self.
Community content is available under
CC-BY-SA
unless otherwise noted.