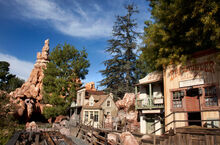 Rainbow Ridge is a location from Big Thunder Mountain Railroad which has connections to Phantom Manor.
History
Background
Rainbow Ridge is an Arizona town established in the Big Thunder Mountain Range in 1869. In 1879, the Big Thunder Mining Company moved to Rainbow Ridge and established a base to mine for gold in the mountain. While bringing success and a rising population to Rainbow Ridge, it also resulted in the wrath of the Spirit of Big Thunder which caused natural disasters such as earthquakes and rock-slides.
History
Rainbow Ridge was originally created for the Disneyland attraction Mine Train Through Nature's Wonderland where it was the backdrop for the queue and several scenes. It took its name from the Rainbow Caverns, sulphur features of the caverns now identified as being part of the Big Thunder Mountain Range. When the attraction was removed for Big Thunder Mountain Railroad, the town would be recreated as the ride's back-drop and go on to be the central in-world setting for Disneyland's Frontierland.
Locations
The Town
Assay Office - est. 1869. Chemical Analysis of every description made with accuracy of dispatch. Mining claims recorded, bought and sold.
Barber Shop - Best clippings in town.
Big Thunder Epitath
The Big Thunder Saloon - Poker, Billiards, Entertainment & Dancing.
El Dorado Hotel - est. 1870.
General Mercantile - Plain & Fancy Dry Goods. The post office is here.
Gold Nugget Dance Hall - We Serve the Finest Corn Whiskey. A bartender and a piano player are wanted.
Ivory - Jeremiah Colt. Blacksmith. This is where the extra trains are held.
Leather Goods - Buckskins, Our Specialty.
Panhandle Hotel - Telegraph service.

A portrait of Barnabas T. Bullion, the owner of the BTM Company can be seen in the window here.
Nature
Connections
Rainbow Ridge exists in the same vicinity and mythology as Thunder Mesa in Disneyland Paris. An advertisement found at Walt Disney World's Big Thunder Mountain Railroad (set in the town of Tumbleweed) would promote the Butterfly Stage Line of carriages which offer 10$ rides from Thunder Mesa to Rainbow Ridge in their routes. Advertisements in the Thunder Mesa Daily Messenger would also offer travels on the Mark Twain Riverboat through Thunder Mesa's rivers to Rainbow Ridge. A sign in Rainbow Ridge would also point to Thunder Mesa, being around 9258 Km away from the town. The Magic Kingdom's Big Thunder Mountain Railroad also illustrates Big Thunder Mountain as a mountain-range with the distinctive Natural Arch Bridge of the Living Desert of Rainbow Ridge being visible in the portrait.
In Other Media
In Disney Kingdoms: Big Thunder Mountain Railroad, Rainbow Ridge is the primary setting of the story. It should be noted that this comic is a melting-pot of Big Thunder Mountain Railroad lore, taking some influence from the story of Phantom Manor. This story ends with the people of Rainbow Ridge leaving Big Thunder to go and found Discovery Bay with Jason Chandler.
A portrait of Rainbow Ridge can be seen in the Haunted Mansion's Ghostly Materials Gallery when it is shown by the Hatbox Ghost to Danny Crowe.
Disney Parks
Mine Train Through Nature's Wonderland
Rainbow Ridge was the backdrop for this ride's load-area and some of its show-scenes.
Big Thunder Mountain Railroad
Rainbow Ridge is once again the load-area for this attraction though it also holds prominence in the ride's story.
Frontierland
Rainbow Ridge has become something of a mega-theme for Frontierland over the years with the land being themed to the setting of Rainbow Ridge.
Mark Twain Riverboat/Disneyland Railroad
One of the sights in these attractions is a bridge passing over Big Thunder Falls and Little Thunder Falls where a plaque can be seen, detailing Rainbow Ridge as having commissioned the bridge in 1869 and identifying it as the Big Thunder Gorge Bridge.
Legends of Frontierland: Gold Rush!