Prof. R. Blauerhimmel is a character appearing in Mystic Manor.
Description
Background
Blauerhimmel was a professor and aviator pilot during the late-19th and early 20th century.  He was a member of the Society of Explorers and Adventurers as well as a close-friend toLord Henry Mystic and Mystic even put a portrait of him up on display within Mystic Manor.
In 1904 he traversed the Ucayali Rivers of Peru and during the 1930s he worked for the Jungle Navigational Company through S.E.A.
History
Blauerhimmel is visually modelled after Disney Imagineer Robert Coltrin. The name Blauerhimmel is German for "Blue Sky" which was the term Disney Imagineers used for "No Limits" perspectives on attraction concepts.  Blaurhimmel being an aviator adds on to this.
Appearances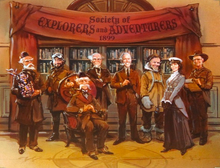 Mystic Manor
Blauerhimmel appears in two portraits within the queue of Mystic Manor made by Charlton J. Taboret.
Skipper Canteen
A book titled "Traditional native holiday décor" which was written by the professor is in the library of this restaurant.
Bengal Barbecue
Blauerhimmel's photograph can be seen at Disneyland's Bengal Barbecue.
Tropical Hideaway
The professor's paddle is on display at the Tropical Hideaway Restaurant  marking his 1904 expedition on the Ucayali River in Peru.
Community content is available under
CC-BY-SA
unless otherwise noted.