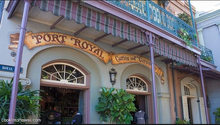 Port Royal Curios and Curiosities is Disneyland's Haunted Mansion's associated gift shop located in New Orleans Square.
History
Background
Port Royal Curios and Curiosities is a strange shop found in the French quarters of New Orleans on Royal Street from the late-19th/early-20th century. It specializes in the selling of the strange and arcane while holding clear connections to the macabre, paranormal, and a haunted estate found not to far from it along the Mississippi.
Development History
Port Royal Curios & Curiosities replaces the One-Of-A-Kind Shop in New Orleans Square which operated from 1966 through 1996. This original shop predominately sold brass, cutlery, chandeliers and other forms of furnishings and cutlery. This antiques shop was designed by Walt Disney for his wife Lillian who loved antiques shopping but it was eventually shut does due to the popularity of the Haunted Mansion and Pirates of the Caribbean making an antiques shop in New Orleans Square impractical. The shop would briefly be replaced with a cookware shop called Le Gourmet until in 2006 when Port Royal was created.
Description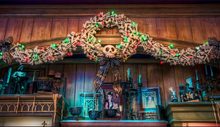 The shop is decorated to look like a 20th century antiquities shop located on Royal Street in the French-Quarters of New Orleans, and along with carrying merchandise for the Haunted Mansion, the Nightmare Before Christmas, and Disney Villains. The store's decor features several references and tributes to the previously mentioned franchises.
The shop is also home to a Haunted Mansion themed Penny Crusher which is made to resemble an ebony black coffin.
Other Appearances
In this video game, Port Royal appears as the home of the fortune-teller pirate, Fortune Red. In real-life Disneyland, Fortune Red was originally located in the Pirate's Arcade and then later moved to the Pirates of the Caribbean themed shop, Pieces of Eight.
Trivia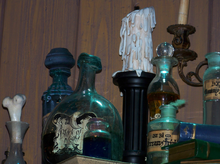 The store takes it's name from the Jamaican port of the same name which along with having appeared in the Pirates of the Caribbean film franchise, was a real life location which was notorious for it's overly brutal and violent treatment of criminals, namely pirates.
The bottles in the shop's decor areas are subtle tributes to the 1937 Disney film Snow White and the Seven Dwarves. This is apparent based on the bottles having been the ones that the Evil Queen used to create her Disguise Potion, these being; Black of Night, Scream of Fright, and Mummy Dust.
Several Jack O' Lanterns can be seen in the shop carved to resemble Jack Skellington.