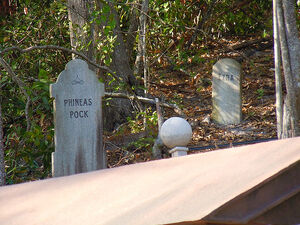 Phineas Pock is presumably one of the ghosts haunting the Haunted Mansion.
Description
A Phineas Pock tombstone is present in the Haunted Mansion family plot. It might refer to any of the very numerous known Phineas Pock characters in the Mansion.  In the Disneyland Haunted Mansion the tombstone for Phineas Pock is one of the original eight tombstones in the family plot and reads,"Here lies Phineas Pock laid to rest beneath this rock", while the more recently-added Walt Disney World one only bears the name of Phineas Pock with no epitaph.
Trivia
The Disneyland tombstone is located near a grave which reads,"Rolo Rumkin lived as he died a friendly bumpkin". Rolo Rumkin is the name of one of the singing busts in the graveyard of the mansion hinting that this Phineas Pock is also Phineas P. Pock the singing bust of the same name.
The Disneyland tombstone being located in the family plot hints that he was either a relative or close friend of the Family which used to own the mansion.
The Walt Disney World version of the tombstone is located near tombs for "Ezra" and "Gus", suggesting the Phineas Pock buried therein may be Phineas, the Hitchhiking Ghost.
Community content is available under
CC-BY-SA
unless otherwise noted.