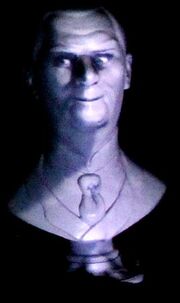 Phineas P. Pock
is a character appearing in every version of the Haunted Mansion except for
Mystic Manor
. He is portrayed by
Bob Ebright
.
Appearances
Disneyland
In the New Orleans Square mansion, Phineas' tombstone is seen in the mansion's berm cemetery where it reads, "Here Lies Phineas Pock. Laid to Rest Beneath this Rock". His ghost appears in the graveyard in the form of an animated marble bust as a member of the Mellomen Group, together the spirits sing Grim Grinning Ghosts.
Magic Kingdom
Although his appearance in the ride section of the attraction is virtually identical to that of Disneyland's Mansion, in the Liberty Square Mansion he has a tombstone on a hillside which reads only his name and no epitaph.
Phantom Manor
In Phantom Manor Phineas appears in the Underworld portion of the attraction before Phantom Canyon where he still sings Grim Grinning Ghosts only now with only three of his fellow busts.
Tokyo
He and the rest of the Singing Busts appear in the Graveyard
Trivia
Community content is available under
CC-BY-SA
unless otherwise noted.