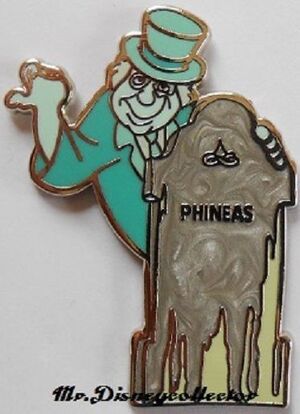 Phineas
is the fan-generated semi-official name of the 
Traveler Hitchhiking Ghost
. 
Origin
The name Phineas was unofficially created by Cast Members as a name for the Traveler Hitchhiking Ghost, along with the names of Gus and Ezra for the Prisoner and the Skeleton. 
Official uses of the name
Pin
Most notably, a pin (depicted here) confirms the name, although merchandise has often been known to be of questionable canonicity.
Host A Ghost
In Disney's line of Host a Ghost Spirit Jars, he is given the name Prof. Phineas Plump
Ghost Post
During the limited interactive mystery game, Ghost Post, he is heavily implied to be the ghost yearning to hitchhike named Phineas.
Comics
In the SLG comics, his name was given as Dr. Phineas Q. Hackenbush.
Video Games
In the mobile-phone-only video game Disney Crossy Roads, his name is given as Prof. Phineas Plump.
Trivia
Community content is available under
CC-BY-SA
unless otherwise noted.