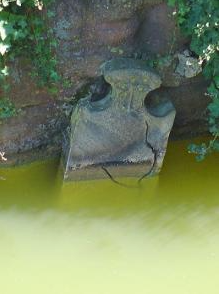 Peg Leg McBrogue was a character affiliated with Phantom Manor.
History
Peg Leg McBrogue's tombstone was a toombstone that could only be seen from the Thunder Mesa Riverboat Landing and Rivers of the Far West. The tomb was removed at some point in the 2010s though it's unknown exactly why this was but it could have pertained to how difficult it was to see the tombstone and how the water made the tombstone's epitaph effectively illegible.
Biography
Peg Leg McBrogue was a 19th century river-pirate who operated along the rivers of Thunder Mesa.  Presumably at some point in his life he lost a leg and replaced it with a wooden one.  He ultimately died when being forced to walk the plank into the river where he subsequently drowned.  McBrogue's corpse was buried in the Boot Hill cemetery along the rivers he once terrorized, adjacent to the haunted Ravenswood Manor.  McBrogue's epitaph reads:
"Peg Leg McBrogue the River Rogue 
Walked the Plank and Sank."