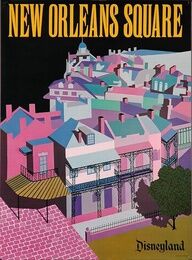 New Orleans Square is where the Haunted Mansion at Disneyland is located. As the name suggest, the area is entirely decorated to look like a town in the city of New Orleans, Louisiana. Pirates of the Caribbean and Port Royal are also located in this park area.
Attractions
Former
The Pirate's Arcade Museum:
The Disney Gallery:
The Disneyland Dream Suite:
Shops
Mlle. Antoinette's Parfumerie
Royal Street Sweets
Pieces of Eight
Cristal d'Orleans
Restaurants
Club 33:
Churros near Haunted Mansion
Popcorn near Haunted Mansion
French Market Restaurant
Mint Julep Bar (non-alcoholic)
Cafe Orleans
Royal Street Veranda
21 Royal:
Trivia
Appropriate to its name, New Orleans Square is divided up into a series of streets. These include Royal Street, Esplanade Street, Orleans Street, and Front Street.

The Haunted Mansion is located on Esplanade Street.
Pirates of the Caribbean is located on Royal Street. The building the show is housed in is known as the Royal Street Gallery.

New Orleans Square was once planned to have had a mega-theme connecting the stories of the Haunted Mansion, Pirates of the Caribbean, and Tom Sawyer's Island. The only true remnant of this plan is a bricked up oven-crypt marked, "1764" which homages the plan to have had a crypt in the Haunted Mansion connect to Tom Sawyer's Island.

The year 1764 aligns with the year Spain announced their acquisition of Louisiana. France only reclaimed Louisiana in 1800 via a secret treaty condition only for Emperor Napoleon Bonaparte of France to sell it three years later.

There are many allusions to historic 19th century pirate and smuggler Jean Lafitte who himself was once intended to be a major factor in the proposed mega-theme.

In Pirates of the Caribbean, the loading zone for the attraction is a boat-dock labelled Laffite's Landing in the Blue Bayou. The name here is misspelled but the allusion remains.
There is an anchor in New Orleans Square which has a plaque reading,  "Said to be from a pirate ship commanded by Jean Lafitte in the battle of New Orleans – January 8, 1815 – It is also said that Lafitte's privateering ships left a wake of blood from the mainland to Barataria Bay – But don't believe everything you read".
There used to be a silver goods and custom engravings shop in the area called, Laffite's Silver Shop (although his name is once again misspelled). 
Tom Sawyer's Island there is an area called Lafitte's Tavern and the other in the now extinct Fort Wilderness where a display can be seen homaging the final battle of the war of 1812 (which was the battle Lafitte partook in).
There are newspaper clippings on Tom Sawyer's Island stating that Jean Lafitte used to use the island as his lair.
Community content is available under
CC-BY-SA
unless otherwise noted.