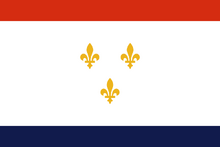 New Orleans or as it was originally named La Nouveau Orléans is a city in the American state of Lousiana, and is often where the Haunted Mansion is located in various adaptations including the original ride, the comics, and the live-action film.
Appearances
The city is the inspiration behind New Orleans Square which holds the original ride as well as locations such as Port Royal, Pirates of the Caribbean and Madame Leota's Vardo.
New Orleans is the setting of this film.
The House of the Wyrd is set in New Orleans within the Seekers of the Weird Marvel comic series.
Trivia
The 2009 Disney film, the Princess and the Frog entirely takes place in Jazz Era New Orleans and also features a hidden reference to Madame Leota.
Community content is available under
CC-BY-SA
unless otherwise noted.