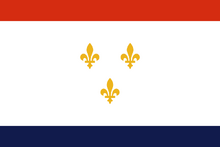 New Orleans or as it was originally named La Nouveau Orléans is a city in the American state of Louisiana, and is often where the Haunted Mansion is located in various adaptations including the original ride, the comics, and the live-action film.
Appearances
The city is the inspiration behind New Orleans Square which holds the original ride as well as locations such as Port Royal, Pirates of the Caribbean and Madame Leota's Vardo. It was also planned to hold the Museum of the Weird attraction which ultimately went unbuilt.
Disney's Port Orleans Resort is a pair of hotel resorts in Walt Disney World themed around old south New Orleans. This includes the Riverside resort and the French Quarters resort. In the Magic Kingdom's Jungle Navigation Co. Ltd. Skipper Canteen, there is a book called Ghosts of New Orleans by Scholtz which references the Haunted Mansion.[1]
In Other Media
The Ghost Gallery is often mentioned within the unofficial ghost gallery backstory for the Haunted Mansion despite presumably being set in upstate New York. Most notably, Madame Leota originates from the city and years later, her daughter travels there to marry a plantation owner.
New Orleans is the setting of the main stories in these comics revolving around their Haunted Mansion.
New Orleans is the setting of this film.
The Haunted Mansion of this video-game is located in a bayou near New Orleans.
The House of the Wyrd is set in New Orleans within the Seekers of the Weird Marvel comic series. The Haunted Mansion of these comics is once again located in New Orleans.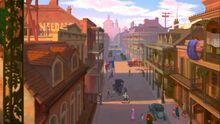 Trivia
The 2009 Disney film, the Princess and the Frog entirely takes place in Jazz Era New Orleans and also features a hidden reference to Madame Leota.
Referances
Community content is available under
CC-BY-SA
unless otherwise noted.