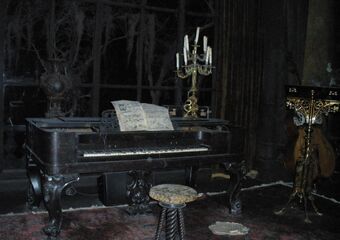 The
Music Room
is a scene present in the Haunted Mansions in Walt Disney World, Tokyo Disneyland, and Phantom Manor in Disneyland Paris.
Appearances
Walt Disney World and Tokyo Disneyland
In both the Florida and Tokyo mansions, guests pass through this room after leaving the library. In the room, guests find an invisible ghost playing a Rachmaninoff-style arrangement of Grim Grinning Ghosts on the piano. The ghost's shadow can be seen cast upon the floor, while a storm brews outside. In Disney World's version, guests will also notice several other musical instruments in the room, including a large bass to the right of the piano as well as a violin in the chair on the left.
During the Haunted Mansion Holiday Nightmare in Tokyo, the piano is played by the Vampire Teddy Bear, while Sally sits in a nearby chair, listening to the Vampire Teddy Bear playing "Kidnap the Sandy Claws".
Phantom Manor
In Phantom Manor, this scene takes the place of the Conservatory. In the 1992 version of the scene, guests hear the piano playing a variation of the ride's orchestral version of "Grim Grinning Ghosts" while a raven glares at them menacingly from a nearby podium, making it this attraction's rough equivalent of the Conservatory.
In the 2019 update, the piano plays a minor key variation of Richard Wagner's "Bridal March". The scene now features several funeral wreaths as well as several portraits of Melanie's would-be suitors.
Trivia
Community content is available under
CC-BY-SA
unless otherwise noted.