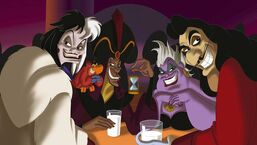 Mickey's House of Villains is a direct-to-video film based on Disney's House of Mouse. It stars Mickey Mouse , Minnie Mouse, Goofy , Donald Duck, and characters from many different Disney animated movies. It was released on VHS and DVD September 2, 2002.
Synopsis
It's Halloween at the House of Mouse, and the Disney Villains are going to take action. At the stroke of midnight, they'll take over the House of Mouse and boot out all of the heroes, finally having time in the limelite. Can Mickey and his friends stop them, and take back the house?
Haunted Mansion Cameos
Several Haunted Mansion characters can be seen in the film. Mostly during the song "It's Our House, Now".
Cruella De Vil releases the Hitchhiking Ghosts from a wooden crate. Ezra, Phineas, and Gus can be seen flying around the room throughout the song.
Madame Leota, the Opera Singer, and a Ballroom Ghost are sitting at a table, together. They're also seen in the wide shots of the club.
When Mickey comes back in his Sorcerer's Apprentice costume, the Hitchhikers are seated at a table, together.
Segments
Trick or Treat
Mickey's Mechanical House
How to Haunt a House
Dance of the Goofys ("Voices of Spring")
Donald Duck and the Gorilla
Donald's Halloween Scare ("In the Hall of the Mountain King")
Hansel and Gretel ("Danse Macabre")
Credits
Executive Producers: Robert Gannaway and Tony Craig
Producer: Melinda Rediger
Director: Jamie Mitchell
Story Editor: Roberts Gannaway
Writer: Thomas Hart
Trivia
This was the first time Haunted Mansion characters appeared in a House of Mouse production. The second time happened in the episode "House Ghosts ".
The layout and background design for Trick or Treat was done by Yale Gracey , one of the special effects wizards for the Haunted Mansion
The Lonesome Ghosts are heavily featured in this movie. Coincidentally, they were once mansion residents in a draft.
Animation for this film was recycled for "House Ghosts". Two segments of this film - Hansel and Gretel and How to Haunt a House - were shown in the episode, as well.
Gallery
Community content is available under
CC-BY-SA
unless otherwise noted.