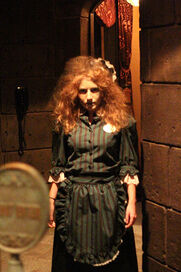 "Drag your wretched bodies to the dead center of the room."
—A maid
The Mansion is staffed by maids and other house servants. Generally, the maids do not smile, and they commonly refer to mortal guests as "bodies."
Appearances
Attractions
The maids are played by Cast Members who work at the attraction.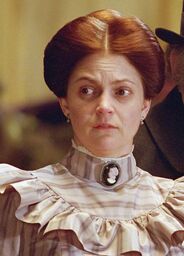 The Haunted Mansion (2003 Film)
In the 2003 film, a ghostly maid named Emma haunted Gracey Manor, along with her husband Ezra, the footman.
Trivia
In the unofficial Ghost Gallery storyline which was created by cast-members who worked at Walt Disney World's Haunted Mansion, the ghost haunting the floating candelabra is identified as having been one of the mansion's maids who was named Prudence.
According to an unconfirmed Disney Parks story, all maids name the fabric bats which they wear on their heads.
An unused character concept by Marc Davis which went through a considerable number of development stages was that of a ghost maid. This maid however was much more cartoony and resembled a stereotypical "bed-sheet" ghost.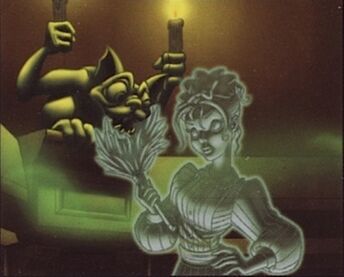 Community content is available under
CC-BY-SA
unless otherwise noted.