The Magic Kingdom is a theme park in Walt Disney World, Lake Buena Vista, Florida, The second Haunted Mansion attraction is located in Liberty Square in the Magic Kingdom.
Haunted Mansion Attractions
These are a list of attractions that relate directly to the Haunted Mansion.
The Haunted Mansion
The Haunted Mansion at the Magic Kingdom opened with the park on October 1st, 1971. It was the second Haunted Mansion attraction to open at any Disney park, proceeding the Haunted Mansion at Disneyland. It is built to resemble a Dutch Gothic mansion to match the late-17th century era of Liberty Square.
Memento Mori
Memento Mori is a gift shop in Liberty Square that exclusively sells Haunted Mansion merchandise. It opened on October 4th, 2014, replacing Yankee Trader. It was once the home and domain of Madame Leota, who came to Liberty Square after fleeing the witch trials in Salem. Many of her belongings can still be found in the shop, as well as a portrait of her.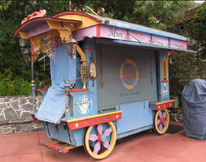 Madame Leota's Vardo
Prior to Memento Mori's opening, Haunted Mansion merchandise was sold on a Romani caravan, or a Vardo, belonging to Madame Leota. It sat just outside of the mansion's exit, where the path between the Tangled restrooms and the mansion, today.[1] It was inspired by concept art by Rolly Crump for the Museum of the Weird. It is now defunct.
Haunted Mansion References
Being home to the Haunted Mansion, some of the Magic Kingdom's other lands and attractions have paid tribute to it.
Riverboats
In a removed spiel from the Liberty Square Riverboats, it was suggested that the mansion was built on Native American burial-grounds. It can be listen to here. Warning: this spiel contains an offensive racial slur.
Frontierland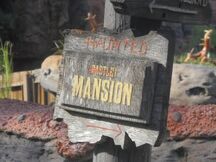 A sign in Frontierland pointed towards the Haunted Mansion, reading "Gastley Manor". The Gastley was crossed off and "Haunted" was written above it. It has since been removed.
Skipper Canteen
Skipper Canteen is a restaurant in Adventureland themed after the Jungle Cruise and the Society of Explorers and Adventurers. One of the bookshelves has a titled called Myths of the Supernatural written by Gracey.
Shows and Parades
Mickey's Boo-To-You Halloween Parade
Mickey's Boo-To-You Halloween Parade plays annually during Mickey's Not-So-Scary Halloween Party. It features a variety of Haunted Mansion characters, including the Hitchhiking Ghosts, the Waltzing Dead, and Constance Hatchaway.
Happy HalloWishes
Happy HalloWishes was an annual fireworks show that played during Mickey's Not-So-Scary Halloween Party. It was hosted by the Ghost Host as a celebration of Halloween. It had its final performance in 2018.
References
Community content is available under
CC-BY-SA
unless otherwise noted.