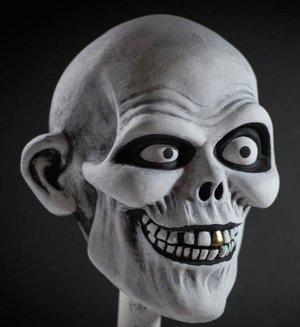 The
Leering Head
is a head-mold used several times in the
Haunted Mansion
attraction.
Description
The Leering Head model is a greening skull-like face with prominent cheekbones, a mocking wide grin and a left eye slightly bigger than the right one, giving off the impression that the figure is trying to make eye contact with the guests.
Uses
The Haunted Mansion
The Leering Head is one of the most notable and widely-used head models in the attraction. It is used as:
Other Appearances
Trader Sam's Grog Grotto/Enchanted Tiki Bar: The mug for the Shrunken Zombie Head beverage at these locations is the leering mould, adapted to resemble a shrunken head.
Behind the scenes
The Leering Face was sculpted by Blaine Gibson.
The Facial appearance of the Grim Reaper illustration in Madame Leota's spell book is virtually identical to that of the leering head
At special times in the Magic Kingdom, photos can be taken in front of the hearse which reveals a phantom hearse driver with the Leering Head.
Notes and references
↑

Formerly. The new figure has no head mold, the face is just projected (though its structure remains of course reminiscent of the Leering Head mold).

↑

At least one, if not all, of them, might actually be pictures of the Hatbox Ghost himself, and not a (or several) separate character(s).
Community content is available under
CC-BY-SA
unless otherwise noted.