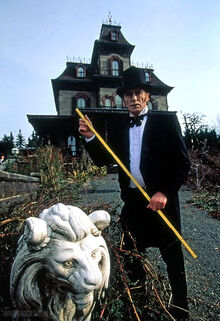 J. Nutterville was a resident of Thunder Mesa.
Description
J. Nutterville was the undertaker of the town of Thunder Mesa during at least the 1880s.  He was also a cabinet-maker,an undertaker, a provider of funeral shrouds, and the man in charge of operating the Boot Hill Cemetery which was built adjacent to the notoriously haunted Ravenswood Manor.  Nutterville owned his own parlor in Thunder Mesa where he operated. In 1885, Nutterville was one of the townsfolk who attended the re-opening of Ravenswood Manor where he roamed the grounds taking coffin-measurements of those passing by,
Trivia
In the 1990s a character known as "the Undertaker" could be found outside of Phantom Manor as a meet & greet attraction.  He was portrayed as being a tall and weathered older man who dressed in all black suits & top hats. He reappeared in the 2019 reopening of Phantom Manor.
Advertisements for Boot Hill promoted by Nutterville could be outside of Phantom Manor during the 2018-2019 refurbishments and after that the same ads could be found in the Thunder Mesa Daily Messenger.
Nutterville's shop can be seen in Frontierland where it serves as Phantom Manor's restroom area.
Gallery
Community content is available under
CC-BY-SA
unless otherwise noted.