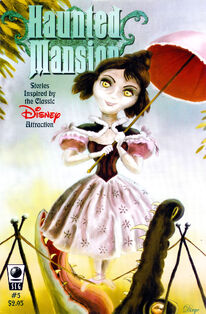 Haunted Mansion #5
is the fifth issue of
the comics
by
Slave Labor Graphics
, released in November 2006.
A Dynamite Party
When you're invited to a party at Gracey Manor, remember that the formal dress code is strictly enforced.
Written and Illustrated by Devon Devereaux
Blue Loup Garou
Life gets lonely for the only cajun werewolf on Gracey Manor's grounds.
The Follow-Up Interview
Sarah has seen the other side ― and being dead seems a lot more interesting than being alive! Now she wants nothing more than to return to Gracey Manor.
Written by Dan Vado
Illustrated by Drew Rausch
The Pickwick Capers
Erasmus Cromwell Pickwick is the world's foremost cat burglar. He claims he can steal anything, but what about pirate's treasure in a haunted mansion?
Written and Illustrated by Jon "Bean" Hastings
The Mystery of the Manse Part Five
Something old, something new, something borrowed, something blue. And something William Gracey's bride-to-be did not expect.
Written by Dan Vado
Illustrated by Mike Moss
with lettering assists by Eleanor Lawson
See also:

Community content is available under
CC-BY-SA
unless otherwise noted.