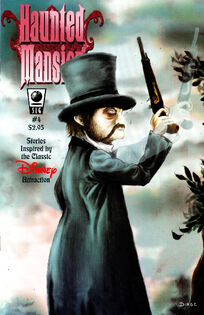 Haunted Mansion #4 is the fourth issue of the comics by Slave Labor Graphics, released in August 2006.
The Interview
Housekeeping in a haunted house? It's not so bad. It's just that finding a qualified candidate is proving to be a little difficult.
Written by Dan Vado
Illustrated by Drew Rausch
Big Game
Lord Dunswallop has taken on every fierce beastie in every land, from Araby to Zimbabwe. Are the ghosts of Gracey Manor any match for him?
Written and Illustrated by Aaron A.
Night of the Ghost Fleas
Who haunts the haunted? Or a better question: Why is Fifi so darned itchy?
Written and illustrated by Roman Dirge
Mystery of the Manse Part Four
William Gracey has found a reason to take his place in the land of the living again. But a haunted house is no place for his innocent bride-to-be.
Written by Dan Vado
Illustrated by Mike Moss
See also: