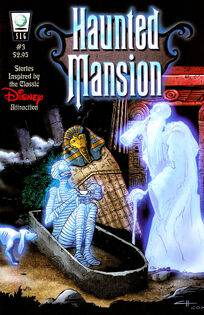 Haunted Mansion #3
is the third issue of
the comics
by
Slave Labor Graphics
, released in April 2006.
Night of the Caretaker's Dog
The skinny hound is the bane of the graveyard inhabitants. But just like his master, he has a reason for what he does.
Written by Chris Reilly and Steve Ahlquist
Illustrated by Crab Scrambly
The Mummy's Curse
The Mummy holds ancient secrets — but give him a little herbal tea to clear his throat, and he'll be ready to dish.
Written and Illustrated by Christopher
The Peppermint Girl
To what lengths will two boys go to get a chance with the girl of their dreams? When the girl is dead, it's a situation that calls for more than smooth pick-up lines and cologne.
Written and Illustrated by D.W. Frydendall
The Mystery of the Manse Part Three
William Gracey has left the life of Captain Blood behind... But can he start over in an abandoned mansion in the Louisiana bayou? Will the manse's inhabitants embrace him as one of their own?
Written by Dan Vado
Illustrated by Mike Moss
See also:

Community content is available under
CC-BY-SA
unless otherwise noted.