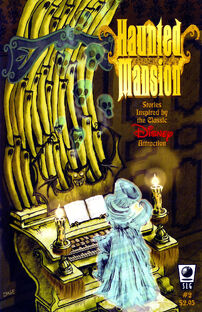 Haunted Mansion #2 is the second issue of the comics by Slave Labor Graphics, released in January 2006.
The Groundskeeper's Secret
Why would anyone choose to take care of a graveyard full of ghastly ghosts? The Haunted Mansion's groundskeeper has a very good reason.
Written and Illustrated by Christopher
Lenore Meets the Haunted Mansion
America's Favorite Little Dead Girl visits America's Favorite Haunted House and brings her own kind of terror to the mansion's inhabitants.
Written and Illustrated by Roman Dirge
The Woman in Black
Out in the Louisiana bayou, a woman dressed all in black wanders, looking for lost children. When Victor loses his way in the swamps, he knows that she will come looking for him...
Written by Serena Valentino
Illustrated by FSc
The Big Nap
How did Gus, that Lovable Cuss, get to be one of the three Hitchhiking Ghosts in the Haunted Mansion? From herding sheep to dodging pirates, it's a rollicking tale!
Written by Jon "Bean" Hastings Illustrated by Jon Morris
The Mystery of the Manse Part Two
Captain Blood tells his tale in part two of the truth behind William Gracey and the mansion's creepy history.
Written by Dan Vado
Illustrated by David Hedgecock
See also:

Community content is available under
CC-BY-SA
unless otherwise noted.