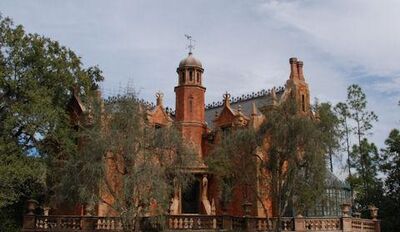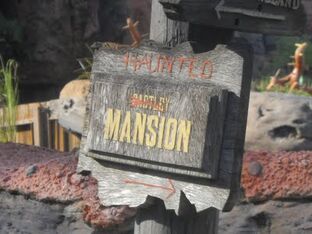 "You see that brick mansion back over yonder there in the woods? I've heard folks hereabouts say it's haunted. They say it was built on sacred indian burial grounds, and now it's filled with spirits."
—Liberty Square Riverboat narration
The titular house of Walt Disney World's Haunted Mansion attraction is named Gracey Manor, according to an address on a wooden crate formerly located nearby in Liberty Square that was added in 2012. The crate was replaced in 2014 with another crate marked "English Tea." The removal of the reference to "Gracey Manor" may be an indication that the name is not canonical. Previously, there was a wooden directional sign in Frontierland that named the house Gastley Mansion, but the sign was removed in either 2011 or 2012. The house is referred to as "The Haunted Mansion" everywhere else in the attraction and its surrounding area (including twice in the Ghost Host narration).
Summary
Gracey Manor is an 18th century brick manor house located in Hudson River Valley, New York (according to an address on a wooden crate in Liberty Square from 2012-2014) that is said to have been built on "sacred indian burial grounds," and is now occupied by 999 "happy haunts" from all over the world.
Gallery