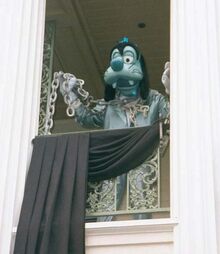 Goofy is an anthropomorphic dog cartoon character. He occasionally appears in Haunted Mansion merchandising playing different roles.
Spooky Tenants
Goofy is a main character in the short story Spooky Tenants. His house is being haunted by a group of ghosts. While they don't scare him or cause him harm, they've disturbed his sleep. He goes to Mickey's house to get some shut eye there, and tells him that. They discover that they are the ghosts of the Harker family - Jonathan, Ebeneezer, and his wife - after their house was destroyed. They decide to take them to a new home so Goofy can sleep in his own home again - the Haunted Mansion at Disneyland.
Haunted Happenings
Goofy is a main character in the illustrated coloring book, The Haunted Mansion: Haunted Happenings. He is an employee at Squeaky Cleaners, alongside Mickey, Minnie, Donald, Daisy, and Pluto. They get a call from Mr. Gool to clean his home. He's paired with Donald, as they go through the mansion together. Eventually, they realize it's haunted and try to escape with the rest of their friends.
Park Appearances
During the launch of Mickey's Christmas Carol, a walkaround version of Goofy as Jacob Marley would make appearances around the Haunted Mansion at Disneyland.
On August 9th, 2019, Goofy made an appearance outside of the Walt Disney World Mansion, dressed in a new, spooky outfit.
Gallery
Community content is available under
CC-BY-SA
unless otherwise noted.