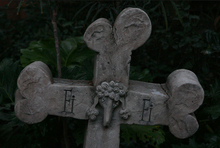 Fifi is a ghost poodle in the Haunted Mansion
Appearances
Pet Cemetery
In Disneyland's Pet Cemetery there is a tombstone labelled Fifi which has a small carving of the poodle's head and the tombstone appears like a cross in the shapes of bones.
The design of Fifi's tombstone is inspired by the tombstone of the dead-dog Sparky from director Tim Burton's 1984 short, Frankenweenie. Sparky's own tombstone is added to the Pet Cemetery during seasonal overlays.
Comics
In the SLG comics Fifi was supposedly Emily de Claire's dog in the Haunted Mansion comics. After the death of Emily, Fifi attempts to reestablish familiarity with her owner, but to no avail. This relationship is likely inspired by a piece of Marc Davis artwork showing the bride with a small undead dog.