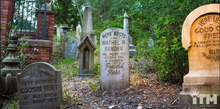 The Family Plot or Berm Graveyard is an area which appears in front of all of the Haunted Mansions where it is filled with tombstones marked with humorous epitaphs often honouring imagineers.
Disneyland
The New Orleans Square Mansion has a small family plot appearing over the pun crypts on a berm. There used to be only eight tombstones but they were removed during the first Haunted Mansion Holiday, however replicas of the tombstones were reinstalled in the October of 2016 along with five new epitaphs. The tombstones found in the graveyard are marked:
The Original Eight:
The Updated Four:
Walt Disney World
At Walt Disney World's Haunted Mansion there were originally only twelve tombstones (thirteen when the Leota tombstone was added in 2002) found to tribute imagineers but over time more tombstones and crypts have been added to honour more imagineers.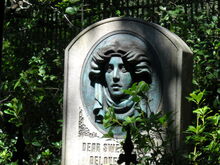 The 13 Tombstones:
The Other Tombstones: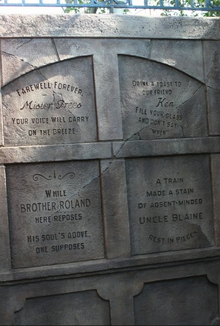 The Crypt:
Tokyo Disneyland
At Tokyo Disneyland's mansion, all of the epitaphs are reused from original tombstones but several of the names have been switched.
Trivia
Community content is available under
CC-BY-SA
unless otherwise noted.