Jurassic World: Dominion Dominates Fandom Wikis - The Loop
Play Sound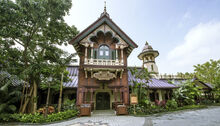 The Explorer's Club Restaurant is a restaurant located at Mystic Point at Hong Kong Disneyland.
Background
The Explorer's Club is a restaurant in the colony of Mystic Point in Papua New Guinea, having been constructed circa 1896. The club is seemingly owned by or at-least beneficed by Lord Henry Mystic as several of his artifacts and notes can be found within the club. The club seems to be a meeting-place for the Society of Explorers and Adventurers of which Lord Mystic was a prominent member.
Description
The club serves cuisines from across the globe with the building itself being divided into different sections themed around the different nations of the world, namely: India, China, Russia, Morocco, and Egypt. The entryway of the club is themed around tribal Polynesian cultures. The club is decorated with items from Lord Henry's collection and notes detailing his adventures with Albert.
Artifacts
Entry-Hall
Tribal Masks: A series of tribal masks which were moved from Mystic Manor to the restaurant due to Lord Mystic believing them to be animate and making him unsettled.

These are props from Walt Disney World's defunct Adventurers Club's Mask Room which were transferred here after the club closed.
Egypt
Egyptian Sarcophagus: A golden pharaoh's sarcophagus from Ancient Egypt.
Pithos: Two ornate gold pithos (vases).
China
Tang Dynasty Jade Statue: The statue of a dancer which was made during the Tang Dynasty ( 618-907).
Vases:
Mandolins:
France
Eiffel Tower Blueprints:
Eiffel Tower Construction Photo:
India
Ceramic Tea-Pot: A turquoise ceramic tea-pot.
Taj Mahall Photo:
Horseman Statue: A miniature statue depicting a horseman.
Journal Entries
Entry-Hall
"Welcome to the Explorer's Club Restaurant. It is here, in this a warm, and convivial atmosphere that Albert and I meet with our fellow members to dine and share tales of our travels. Each item on display holds a special place in our hearts and a story well worth telling again and again"
―From the Journal of Lord Henry Mystic, June 12, 1908
"These masks are on loan from my personal collection in the manor house. If truth be known, they give me the willies. I believe I caught one looking at me last night while dozing over my desk. Since then, I prefer to display them here."
―From the Journal of Lord Henry Mystic, June 19, 1908
France
"Showed off the Mystic Magneto-Electric Carriages at the Paris Exposition. Created quite a sensation. An American chap, Henry Ford, was rather taken with it. he has plans of his own in a similar vein using a gasoline engine. Best of luck to him."
―From the Journal of Lord Henry Mystic, July 19, 1900
"Quite impressed with this tower thingy. Bound to be popular. We would have stayed to admire its construction, but it seems that young Albert got hold of a loose rivet. Before I knew it, he took it for a souvenir. We made a hasty retreat amid the clatter of falling girders. Suppose I should give him a good talking to, but I'm sure he's learned his lesson."
―From the Journal of Lord Henry Mystic, June 12, 1908
India
"Spent a good deal of time in India. Even tried my hand at playing the Tanpura. Albert was not fond of my efforts, and one evening attacked the instrument with a pair of wire cutters. Although I must say, he preferred the Tanpura to my attempts at the bagpipes."
―From the Journal of Lord Henry Mystic, December 12, 1889
Russia
"I quite fell in love with these delightful young ladies, I am very fond of art and music. I'm afraid I paid rather too much for them. I do not think Albert approved of the purchase price. He likes to bargain."
―From the Journal of Lord Henry Mystic, December 30, 1891
"All in all, I found Russia rather a cold place heated mainly by borsht and vodka. Albert and I, along with several members of the Siberian Expedition, arrived in Moscow during one of their fabled Russian winters. Impressed, of course, with the architecture and the populace in general. Cheerful and helpful. But I certainly see why Napoleon had so much trouble with the place."
―From the Journal of Lord Henry Mystic, April 1, 1903
Morocco
"Our sojourn to Morocco introduced me to a fabulous culture and had a lasting influence on my wardrobe. While doing research in Mystic Manor, I often wear a djellaba and balgha footwear, both exceedingly comfortable. And neither Albert nor I would consider ourselves truly dressed without a fez upon the old noggin."
―From the Journal of Lord Henry Mystic, June 19, 1882
Trivia
The name of the restaurant could be made to be an allusion to the Adventurer's Club connecting to the Society of Explorers and Adventurers. Namely in how the two restaurants are known as the Explorer's Club and Adventurer's Club and both being connected to the same secret society.
When entering the club, the text greeting you features the word, "Kungaloosh". This is an homage to the Explorer's Club where Kungaloosh was the official greeting.