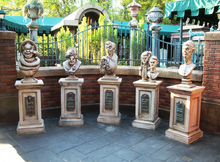 The Dread Family was a family of six which owned the Haunted Mansion before they all killed each other.
Biography
Deaths
The Dread family was made up of six family members who all murdered one another to gain the family fortune through inheritance. The family members in order of death were:
Appearances
They are presented as busts in front of the Walt Disney World Haunted Mansion as part of the 2010 interactive queue installation and work as a mystery game where guests use clues hidden on the busts and epitaphs to solve the mystery of who killed who. Each member of the family's plaque is decorated with symbols that represent their murder weapon (all but Jacob who died before he had the chance to murder) the twins have a dead bird, Bertie has a bottle, Florence has a pistol and Maude has a mallet. There are also items hidden on the busts to help figure out who killed who, Bertie has a pet serpent wrapped around his neck that he would have milked for the poison, the twins have a bag of canary seed behind them and Maude has matches holding her hair in a bun.
In the Exit Crypt, the Traveller Hitchhiking Ghost has an open case which contains a portrait of Cousin Maude holding a lit match as a fire rages on behind her. This is likely included to provide a cannon ending to the guests who attempted to figure out the Dread Mystery on their own.
Unused
In the testing phase of the attraction the Dread family would have also included a Whitfield Tarkington Dread and Ruben Dread. Along with this, the epitaphs were different for the characters who did make it into the final attraction and the busts were originally intended to include voice-acting that would whisper clues to the guests.
From this it can be found that the original draft of the murder plot is almost paradoxical, as there are no surviving members and the first to die seems to have killed the last. It is unknown how Jacob died, as nothing is indicated on his bust, however, it is likely his old age that killed him, as, without a will, panic would ensue as to who receives his inheritance. Regardless of who killed who first, it would seem Forsithia was killed by Ruben as exhibited by his candle flame, and Ruben was killed by Florence, proven by the dessert she holds. She was likely killed by Whitfield, who appears to be mixing a medicine. Whitfield was then murdered by Wellington with his slingshot, and Wellington was essentially lynched by Maude. Maude was murdered by Bertie(or at least his snake), and Bertie was poisoned by Forsythia.
Trivia
Gallery
Community content is available under
CC-BY-SA
unless otherwise noted.