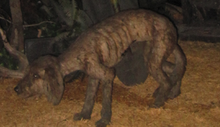 The Caretaker's Dog known also by the semi-official name of "Bones". Is one of the Haunted Mansion's few living residents.
Appearance
The dog very skinny and has brownish-red fur. It appears with it's master the Caretaker at the gates of the graveyard shaking in fear with him at the sight of the undead.
Other Appearances
The Haunted Mansion (2003 film)
The dog appears in the 2003 film along with the caretaker as ghostly versions of themselves and are seen populating the manor's graveyard along with other ghosts. However in this adoption, the dog is shown to be healthy in shape rather than skinny and its breed is depicted as a Labrador Retriever.
In the cast-member created Ghost Gallery storyline, the dog is named Bony. Bony was one of five pups alongside it's siblings Rover, Queenie, Sport, and Sport who live in Tomorrowland in the Magic Kingdom. Bony was the runt of the litter who was nursed as a pup by his owner Dick O'Dell (the Caretaker).
Bony's father was Loki, the undead dog found in the graveyard who apparently was the child of Master Gracey's Hellhound. Hellhound's ancestry could be traced back to the dog of a U.S. Cavalry blacksmith stationed at Fort Sam Clemens (in reference to a dog found on Tom Sawyer's Island). Prior to that, the lineage has been followed as far as the jailer's dog in a Caribbean village sacked by pirates (an obvious allusion to the person dog from Pirates of the Caribbean).
SLG Comics
In the SLG comics, the dog goes to the graveyard with its owner to visit its undead mate.
Trivia
It's paw prints and dog door can be found by the emergency exit at the front of Liberty Square's Haunted Mansion.
At meet n' greets with the caretaker it was revealed that the dog's name is "Bones".
In Phantom Manor, Bones is replaced by an undead dog who appears alongside the Phantom.
Community content is available under
CC-BY-SA
unless otherwise noted.