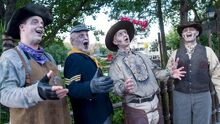 The Cadaver Dans are a group of undead singers who act as a Halloween/Haunted Mansion variant of the Disneyland Dapper Dans found on Main Street U.S.A..  They are played by live-performers and sing acapella music.
Description
The Cadaver Dans are undead, zombie-like indivisuals who sing acapella in a barbershop quartet.  Their names are a pun on "Dapper Dan" which is a kind of traditional Disneyland live-performance and of "Cadaver" which means corpse. Their songs are more often than not medleys of Disney-owned Halloween music, Disney Villain songs, and songs from the Nightmare Before Christmas (1993).
Appearances
The original Cadaver Dans performed outside in Disneyland of the Golden Horseshoe Saloon where they were summoned to perform in the 19th century Western establishment by a woman named Miss Betty Blue.  The show also featured an undead magician named Abner Cadaver and a ghostly piano player reffered to as Dearly Departed Stan.  This show was known as the Haunted Horseshoe Revue.
In the years that followed, these Cadaver Dans performed at Halloween events throughout the Frontierland of Disneyland and Disney World.  They dress in 19th century American Western clothing which varies in resembling styles from the American Civil War, Wild West, and War of 1812 fashion.
Haunted Mansion Variant
The second main variant of the Cadaver Dans are dressed like 19th century gentlemen who dress in tail-suits with red ascots, sunken eyes, top-hats, formal white gloves, red hankerchiefs and pinstripe dress-pants.  They also are often covered in cobwebs and dust.
These Cadaver Dans perform mainly in Disneyland at events such as the 50th Anniversary Show where they performed on Tom Sawyer's Island, aroundNew Orleans Square, on boats along the Rivers of America, in the Mystic Spirits of the Blue Bayou show, atop the balconies of the Haunted Mansion, and at the Grand California Hotel.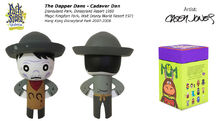 Merchandise
A Cadaver Dan was featured in the Park Starz line of Disney's Vinylmation merchandise. This line also featured: The Phantom, Constance Hatchaway, Gus, Ezra, Albert and Phineas.
Songs
Trivia
The Singing Busts are often likened to the classic Disneyland Dapper Dans of whom the Cadaver Dans are a pastiche of.