C'est Magique, or Feel the Magic in English, was a stage show that ran in Disneyland Paris from 1992 through 1994. It was located in Fantasyland at the Fantasy Festival Stage next to Alice's Curious Labyrinth. It was a revue-style show that featured different Disney characters and a medley of songs themed to lands in the park.
After the Lucky Nugget number ends, the male and female dancers stand up and walk to separate ends of the stage. Fog fills the stage, and portrait frames fall from the ceiling. A new arrangement of "Grim Grinning Ghosts" begins to play. They sing the first verse of the song, miming against the "glass" of the portrait.
From the right side of the stage, Melanie Ravenswood walks across the stage, behind another portrait, and sings the second verse. She stops in the middle, and more fog fills the stage as a door opens up behind her. The Phantom appears, and picks her up, carrying her down the stage, and spinning her around. He puts her down, and they walk to the dancers on opposite sides of the stage.
They dance with them, before the dancers exit the stage. The Phantom and Melanie cross the center of the stage, stretch out towards each other, and exit on the opposite sides from where they once were. The song fades out, with an echo of the final words.
Costumed Characters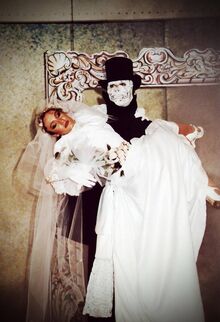 This was the first time Melanie and the Phantom had been seen in the park as costumed characters, as well as one of the first times costume characters had been seen for Haunted Mansion-related characters.
Melanie's wedding dress differed from the one on her animatronic. She has shorter sleeves, with long white gloves that covered her arm. Her dress had a slit on the side, to make it easier for the dancer to move. The dancer seemingly didn't wear a wig, as her hair color depeneded on the woman who was playing her.
The Phantom's costume was all black, without any of the accent colors on his animatronic's suit. He wore a mask on his face and bony-gloves over his hands. The large hands and deep-set mask made it easier to make out his features from the stage.
Trivia
Some performances took place at Videopolis in Tomorrowland. This might have been due to weather, as the Fantasy Festival Stage was an outdoor theater.
This show helped contribute to the ambiguous nature of the Phantom's identity.
The Phantom's costume was also seen in Let's Go to Disneyland Paris and as a meet and greet character in the early years of the park.
The show was televised as Anne au Pays d'Euro Disneyland, with French singer and Disney Ambassador Anne Meson performing throughout the show.
Videos