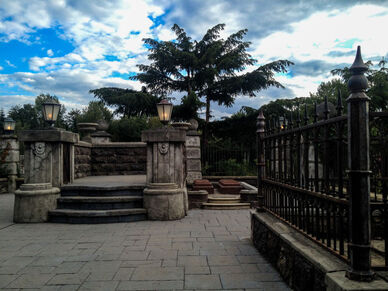 Boot Hill is a small local cemetery located adjacent to Phantom Manor in Disneyland Paris. It is the final resting place for the Ravenswood family, as well as many of the residents of Thunder Mesa.
Details
Guests exploring Boot Hill can find the graves of Henry and Martha Ravenswood, as well as a nameless black sarcophagus that seems to vibrate with the pulse of as beating heart (possibly the grave of their daughter Melanie Ravenswood). Other tombstones contain humorous epitaphs and other sight gags for macabre comedy. The eerie atmosphere is occasionally punctuated by the barking and howling of unseen coyotes. The Disney Imagineers behind Phantom Manor stated that the majority of the tombstones have legitimate backstories behind them which they created in an attempt to expand the world of Thunder Mesa. The term "Boot Hill" was a common term for cemeteries in the American Old-West with the implications being that it was for "those who died with their boots on", alluding to gunfighters who would kill and be killed. The director and undertaker of the burial grounds is J. Nutterville.
Graves and Epitaphs
Henry Ravenswood, 1795 - 1860
 

Martha Ravenswood, 1802 - 1860
 

"Quarreled And Fought As Man And Wife 

Now Silent Together Beyond This Life"

Jasper Jones, Loyal Manservant, Died 1866

"Kept the Master Happy"

Anna Jones, Faithful Chamber Maid, Died 1867 

"Kept the Master Happier"

Mary Murphy, 1837 - 1859, "Til Death…


Frank Ballard, 1829 - 1859, …Do Us Part."
 

Ma Ballard, 1800 - 1859, "Over My Dead Body"

B. Arnold 

"Cold Is My Bed 

But Oh, I Love It 

For Colder Are My Friends Above It."

Here Lies Leadfoot Fred

"Danced Too Slow And Now He's Dead"

1802 - 1866

Rest In Peace, Barroom Benny 

Seems He Took One Drink Too Many

"Shorty" Smith, 1862

Red Hot Harry

"He Got Hot 

But He Was Slow 

So He Got Put 

Six Feet Below"

Valentin, 

dit le Desosé 

Ici reposent les miettes d'un homme brisé.

(Valentin, 

"the boneless" 

Here lie the pieces of a broken man)

Dakota Dick

Pendu le 17 octobre 1867

Descendu le 18 janvier 1868

Poignardé le 18 décembre 1868

Empoisonné le 21 mai 1869

Il Reviendra

(Hanged October 17, 1867

Shot January 18, 1868

Stabbed December 18, 1868

Poisoned May 21, 1869

He'll Be Back)

Jacques Shrillman

Lynché par une poignée de mélomanes

"Une fausse note l'aura tué"

le 9 mai 1865

(Lynched by a bunch of music lovers

"A wrong note was his end"

May 9, 1865)

No. 39 

These Miners Were Told 

About Digging Too Fast 

They Lost All Their Gold 

In A Dynamite Blast

Peg Leg McBrogue the River Rogue 

Walked the Plank 

and Sank.

(Squirrel tombstone) November 13, 1865 – Breakfast time


(Cougar tombstone) November 13, 1865 – Lunch time


(Hunter tombstone) November 13, 1865 – Dinner time


(Bear tombstone) November 13, 1885 – Hibernating in Happiness

After Years of Hearty Hunting

Community content is available under
CC-BY-SA
unless otherwise noted.