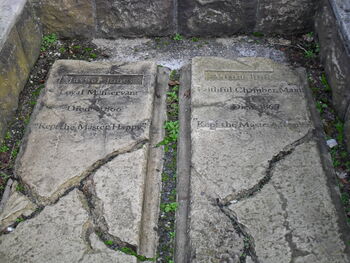 Anna Jones
is a deceased character referenced in
Phantom Manor
.
Biography
Anna Jones worked as a servant in Ravenswood Manor along with her brother, Jasper. While Jasper was the loyal manservant to the house's owner Henry Ravenswood, Anna worked as the manor's chambermaid. In Phantom Manor's original storyline it is also revealed that as a child, Henry's daughter Melanie was forbidden from leaving the estate's grounds so growing up her only friends were the Jones siblings. While Anna's cause of death remains a mystery in both the original backstory and the final attraction, it is known that she died in 1867 while her brother died in 1866. After their deaths, Anna and her brother were buried side-by-side in the Boot Hill cemetery on the Manor's grounds.
Trivia
Both Jasper and Anna's deaths having been long after the earthquake of 1860, meaning that the two might have had some role in Melanie's wedding. However in the original story-draft the Ravenswood Wedding only happened after Anna and Jasper's death and since there is no official date for Mélanie's would-be-wedding, it is unknown whether or not they were still alive.
Jasper's epitaph reads "Kept the Master Happy" while Anna's reads, "Kept the Master Happier" subtly implying towards Henry (who was frequently stated to have been a womanizer in the original script) having had an affair with Anna.
Community content is available under
CC-BY-SA
unless otherwise noted.